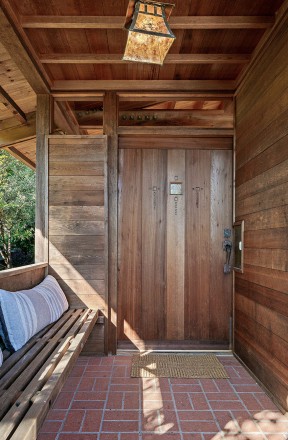 The most notable Berkeley Craftsman of this era
3 Beds
•

2 Baths

•

1,736 SF

•

4,590 SF Lot

•

$1,350,000

1115 High Court, Berkeley, CA 94708

The most notable Berkeley Craftsman of this era, with a pedigree all its own. Previously owned and rebuilt by local legend, Kip Mesirow, coppersmith/redwood artisan, and builder of the world-renowned restaurant, Master Chef Alice Waters' "Chez Panisse," 1115 High Ct. is an architectural extension of Chez Panisse but is its own, unique artistic creation.
Located on a quaint cul-de-sac, this exquisite home is close to the Berkeley Rose Garden, Codornices Park, Live Oak Park, "Gourmet Ghetto" and of course Chez Panisse restaurant.
This extraordinary arts and crafts home is reminiscent of Bernard Maybeck's style but very much with its own Chez Panisse sensibility. Mesirow's signature, one-of-a-kind copper lighting, prominently featured in Chez Panisse, was hand-crafted here in what was once his workshop--now a spacious family/entertainment room with its own custom, copper-framed fireplace, opening out into a romantic back patio/garden. The rich, warm redwood interiors & exteriors, fine detailing, walls of redwood windows/French doors, and unique, copper lighting give this home an elevated ambiance and notoriety in our local folklore of architectural gems.
The stunning redwood front door carries the same signature design found in many of Mesirow's copper lighting fixtures. The open floorplan kitchen, dining area, and living room all share the same vaulted ceiling, wall of windows, a custom, tiled fireplace, and two of Mesirow's large, signature copper light fixtures -- cozy yet expansive -- harmonizing with nature, and inviting the outside in. In the back of the home, the large family/entertainment room with rows of copper lights, previously Mesirow's workshop, features a custom, copper-framed fireplace and a wall of wood French doors opening up to the back patio area where wisteria drips down from the balcony above.  This beautifully landscaped garden/patio, adorned with planters for the "urban farmer," is very much in the tradition of  Alice Waters' now-famous philosophy: "from farm to table." Contributing to the property's effortless, free-flowing ambiance, the back garden patio is accessible from French doors off both the dining area and the family/entertainment room -incorporating the elements of nature & enhancing the feel of inside/outside living – 1115 High Court is perfect for low-key, convivial entertaining.  The primary bedroom above the family room also has a fireplace framed with Earnest Batchelder's tiles,  manifesting a warm and cozy retreat, with a wall of wood French doors opening out onto the artistically- crafted wood balcony featuring views of The City in the distance,  with floral wisteria cascading over the railings to the patio below. Dreamy romance fills the air…
This home embodies a wonderful folklore of our era and brings to a private home literally the most famous restaurant in Berkeley: world-renowned Chez Panisse -- perfect timing for Chez Panisse's 50th anniversary! Come experience it yourself and feast on a one-of-a-kind Berkeley treasure.
Open house 10/30 at 2:00 pm - 4:00 pm
+ a Special Halloween Open house 10/31, 2:00 pm - 6:00 pm - trick or treat!
Fun History/Folklore:
When Mary and Kip Mesirow purchased this home in the early 1970's it was a 1 bed/1 bath – they let a newly-married couple live there for the first year since they had no home of their own.  Kip Mesirow rebuilt the home and had a workshop in the back room where he created the signature copper lighting that Alice Waters wanted made for her restaurant Chez Panisse. Alice Waters had actually sent Kip out to have the copper lights made, but no one would make them due to the intricacy called-for. So, Kip bought tools and made them himself—right here! Yes, this was formerly the actual workshop where the original lighting fixtures for Chez Panisse were made. Mesirow later moved the workshop to his other wood workshop on Camilla, below 6th St. in 1985.  Later, Kip and Mary sold the home and relocated to Vermont to be close to children and grandchildren. He still maintains his copper lighting business, Verdigris Copperworks, there. After a tragic electrical fire destroyed much of the renowned local favorite, Kip Mesirow returned to help renovate Chez Panisse in 2013. These renovations ended up winning a 2014 Berkeley Architectural Heritage Board Association (BAHA) Award for the outstanding restoration work done.  Many people in the Bay Area have purchased Kip's beautiful lighting, and his contribution is a part of our Berkeley folklore and the Chez Panisse legacy.
As featured in:
About The Neighborhood: North Berkeley Rose Garden:
North Berkeley is one of the oldest neighborhoods in Berkeley and has been ranked as the "#1 Best Neighborhoods to Live in Berkeley". With a walkability score of 86 and some of the best schools in the county, it is no wonder North Berkeley is one of the most highly sought-after neighborhoods in the Bay Area.
1115 High Ct. is ideally positioned in North Berkeley's Rose Garden neighborhood, an area known for its charm and abundance of family-friendly activities. With easy access to the North Berkeley Library, Berkeley Rose Garden, Codornices Park, Live Oak Park, and the infamous "Gourmet Ghetto," you'll never cease to find fun things to do in your neighborhood.
Outdoorsy folks and adventurers rejoice! Enjoy easy access to bike trails that take you from downtown Berkeley to U.C. Berkeley. There is even a Berkeley Bike and Pedestrian Advisory Commission to make sure people continue to travel safely throughout the community.
You'll love your new North Berkeley neighbors! The quaint neighborhood charm has attracted several notable residents including Andy Samberg, Ben Affleck (award-winning director), and even Alice Waters (owner/chef at Chez Panisse).
3 bedrooms
2 bathrooms
Open floor plan in kitchen, dining, and living area
Extra family room (former workshop of Kip Mesirow, craftsman/builder of Chez Panisse where copper lighting was created for the restaurant)
3 fireplaces
Balcony off of primary suite with a view of the San Francisco Bay
Landscaped lush front and back garden/patio
According to public records: home occupies 1736 sq. ft. & lot 4590 sq. ft.
1st Floor – Entry
Kitchen - updated quartzite counter tops and new stainless-steel appliances – open floor plan with living and dining areas
Full Bathroom - with Japanese soaking tub
Laundry Room – spacious with room for storage and folding area
Pantry – spacious walk-in
Large Family Room - rows of copper lights, a custom, copper-framed fireplace, Wooden French doors to back patio & garden (once Kip Mesirow's workshop where the signature copper light fixtures for Chez Panisse were made)
Garden/Patio - Landscaped front and back garden/patio with "urban farmer" planters
2nd floor:
First Bedroom - Upstairs, the front bedroom is a carpeted, cozy hideaway with built-ins for the window seat and bed.  Vaulted ceilings and windows have views of the Bay.
Full bathroom - Shower only and vaulted ceilings and skylight
Second Bedroom - The second bedroom is the perfect space for a private home office or baby's room. It also has vaulted ceilings and a skylight.
Primary Bedroom - The primary bedroom has a fireplace & custom tile border by Earnest Batchelder, wood French doors to an outside balcony with view of the City and cascading Wisteria down to the patio and garden below.

Soraya Ali
REALTOR
Lic#01357221
510.396.1627
[email protected]
homesbysoraya.com | My Bio


Golden Gate Sotheby's International Realty
1995 El Dorado Avenue, Berkeley
DISCLAIMER:
The above information including square footage is based on data received from the seller and/or from public sources. This information is deemed reliable but has not been independently verified and cannot be guaranteed.